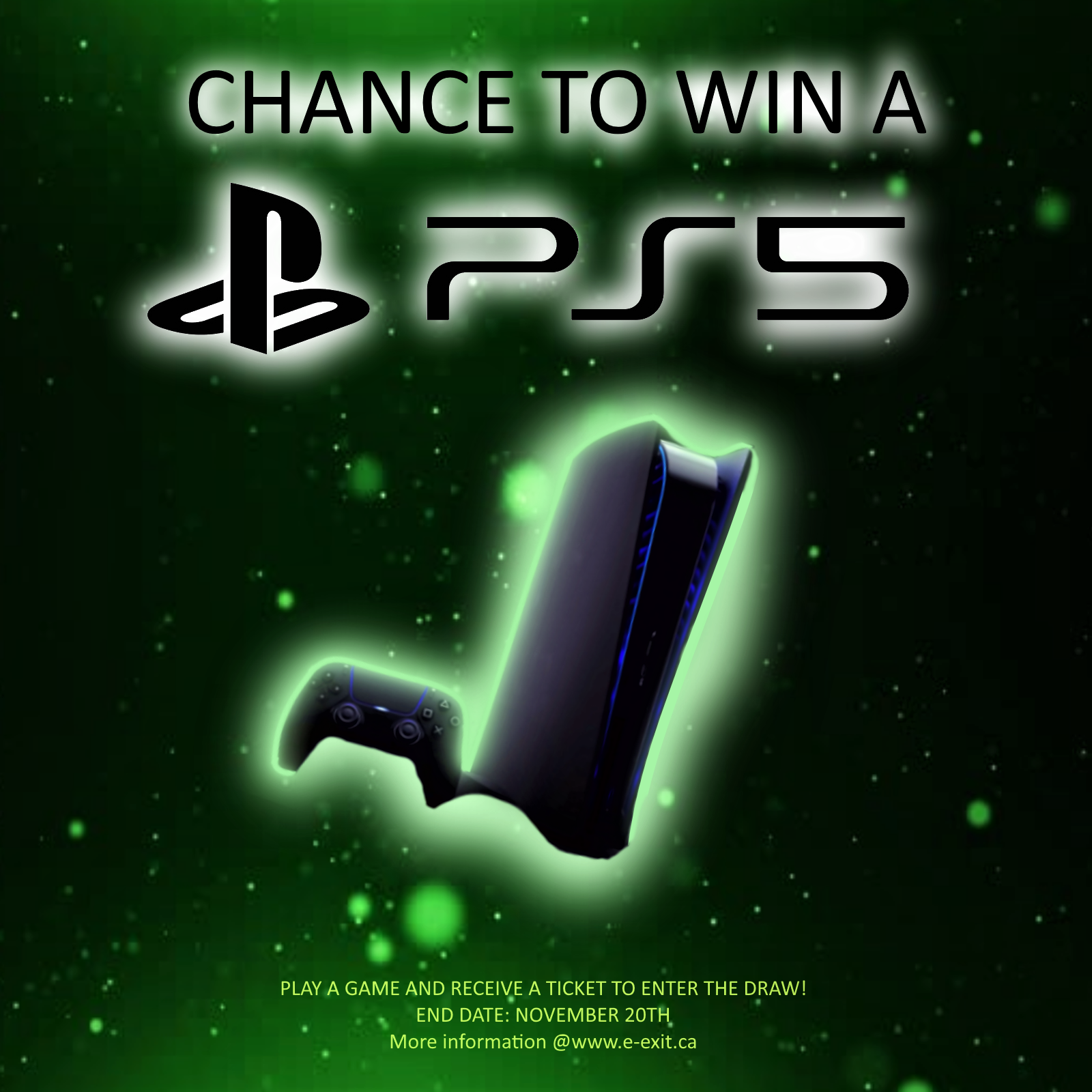 Win a Free Playstation 5 by player EXIT escape rooms!
Win a Free Playstation 5 by player EXIT escape rooms!
Win a Free Playstation 5 with EXIT Canada Escape Room!!EXIT Canada is excited to announce a PS5 giveaway! Customers that play an escape room at any EXIT Canada location will each receive a ticket and be entered into the draw which will end on November 20th, 2020. Besides the 1st place prize of a brand new PlayStation 5, 10 winners will receive free group game coupons. But that's not all! 25 winners will also receive free personal game coupons.
Win a Free Playstation 5 !
How to increase your chances of winning?
1. Work together with your group to successfully escape before time runs out and get an additional ticket per person.
2. Show us your Halloween spirit by coming by October 30th-31th in a costume
3. Purchase any of our online gift cards valued at over $25.
Players will be asked to fill out a digital entry or a paper entry form.

Win a Free Playstation 5 !
EXIT Canada Escape Room Review Review:
John:
We had a great time! The person who helped us at the front was really kind throughout our experience. Made my birthday very fun!
Kevin:
Awesome staff Helpful, without making you feel dumb Challenging rooms, but fun Covid friendly/safe
Weston:
It was so fun. The lady helping us was so nice and helped us so much because we are dumb. It was a really great experience and if love to do it again.
What staff want to say:
During this difficult time, we are trying our best to keep up with all the safety standard and making sure to put maximum effort on providing a safe place for players to enjoy their moments.
Almost forgot to mention, our NEW LOCATION is now opened in Burnaby! Visit EXIT Burnaby for new and exciting games!
EXIT: Connecting people by providing enjoyable moments. Together, We Play!